The Madison Morgan County Convention & Visitors Bureau, Inc. (MMCVB) is a non-profit 501 (c) (6) that serves as the official destination marketing organization for the City of Madison and Morgan County, Georgia.
MMCVB works to advance Morgan County's $53.84 million tourism industry that supports more than 450 local jobs. MMCVB promotes tourism through marketing including brand awareness, advertising, participation in regional and state destination marketing organizations, a role as Camera Ready Liaison for the film industry, and operation of a Regional Visitor Information Center –  Madison Morgan County Welcome Center.
To boost economic vitality and development by inspiring tourists to come, stay and take part in the local tourism economy.
A Georgia Association of Convention & Visitors Bureaus (GACVB) Gold Certified Organization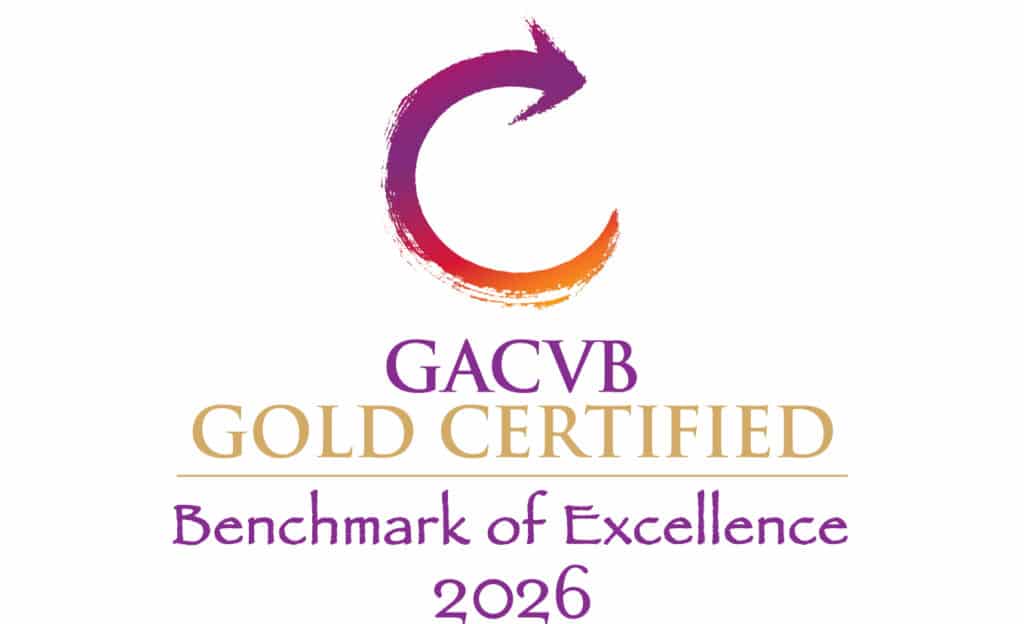 The MMCVB is a Georgia Association of Convention & Visitors Bureaus (GACVB) Gold Level Benchmark of Excellence (BEC) recipient, representing the smallest city and county organization to receive this high honor. The BEC program certifies that MMCVB adheres to practices and procedures that serve to increase the overall professionalism and effectiveness of the organization.
This recognition is determined by a state-wide Review Board comprised of industry professionals, with The Leadership Institute at Columbus State University serving as the certifying agency.
Because of the MMCVB's heavy involvement with the community, the organization is responsible to a variety of stakeholders including the MMCVB Board of Directors. The Board of Directors work as volunteers to manage the business and affairs of the MMCVB, with each member providing value through contributions of his/her time and talents.
Monthly board meetings are held to inform and update the board; these meetings are open to the public.
Pat Hodgetts – Chair
(7/2018 – 6/2024)
Joshua Alexander – Vice Chair
Marketing Manager, Kelly Products, Inc. 
(7/2022 – 6/2025)
Carol Sanchez – Treasurer
Park Manager, Park Ranger, Hard Labor Creek State Park
(7/2021 – 6/2024)
Brandie Anderson – Secretary
VP Operations, Partner, Georgia Safari Conservation Park
(7/2023 – 6/2026)
Lance Alexander
Director, Morgan County Parks & Recreation
(7/2019 – 6/2025)
Ron Collins
General Manager, James Madison Inn
(7/2023 – 6/2026)
Charles Marvil
Managing Director of Hospitality, MAD Hospitality
(7/2021 – 6/2024)

 

       

Lance Van Rheenen
General Manager, Southern Cross Guest Ranch
(11/2021 – 6/2026)
Karen Wibell
Partner, Lane Conrads Corporation
(7/2019 – 6/2025)
Jennifer Rosa León, Executive Director
Open, Marketing Communications Specialist
8:15 a.m.
Second Thursday of each month
Current agendas are posted prior to the meeting. Minutes are available following approval by the Board of Directors. Please Note: The MMCVB may take action to alter the order of the agenda or amend the agenda at the meeting.