It goes without saying that African Americans have shaped life in Georgia for centuries. The Peach State is often considered the home of the American civil rights movement due to the many key events that took place here and can now be experienced by traversing the Footsteps of Dr. Martin Luther King, Jr. Trail. Beyond this, Georgia is also home to areas of the Gullah Geechee Cultural Heritage Corridor and so many more sites where visitors can learn more about the impact African Americans have made on in the state and across the nation.
Madison and Morgan County are proud to share in celebrating this history and heritage, with several educational attractions open for visitors to explore.
Tour Rose Cottage 
This charming cottage was built in 1891 in west Madison near the Georgia Railroad right of way. While the cottage is charming as can be, the real significance of this home has to do with the intriguing woman who not only lived in it, but built it with her hard-earned money.
Her name was Adeline Rose and she was born in September of 1864 to enslaved parents.
The mother of two children, Adeline's husband died leaving her to support her family by taking in laundry at fifty cents a load.  For a time, she did washing and ironing for the boarders at the Hardy House, owned by the mother of the famous comedic actor, Oliver Hardy. She earned enough with her laundry business to have the house built from the ground-up, even investing in beautiful windows and other adornments unusual for working-class homes of the times.
Adeline Rose passed away in 1959 after living in the home for 68 years.
It was in 1966 that the City of Madison moved the Rose Cottage to its present location in downtown Madison next door to the Morgan County Courthouse and another historic home, Rogers House.
Thanks to the preservation of this cottage, Rose's legacy and her home built out of a labor of love is available for touring every day of the week.
Monday through Saturday, 10:00 am to 4:30 pm
Sunday, 1:30 pm to 4:30 pm
Experience The Morgan County African American Museum 
Located in the heart of Madison's historic district, this museum's mission is to research, collect, educate, and preserve the history and art of African American culture.
The museum operates out of what was the tenant house of John Wesley Moore, an African American man born in the last years of slavery. The house John lived in with his wife and four children was on land owned by a white farmer, James Fannin. On October 31, 1899, Fannin deeded Moore forty-one acres of land "for five dollars in consideration of the service he has given me."
After Moore died in 1908, his widow, Dora Gordon, inherited his land and other property. She lived in this house until her death in 1932.
In 1989, this simple Folk Victorian home was moved from the Moore farm, two miles south of town, to its current location where it was restored for the use of today's museum. The Museum was founded as a non-profit organization by Fred Perriman, now mayor for the City of Madison, and Martin L. Bass.
The Morgan County African American Museum is open daily. Stay connected with this local museum that frequently hosts community events and exhibits by liking them on Facebook or visit their website here.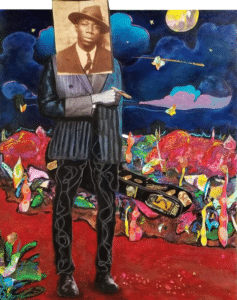 Behold "Black Heritage and the Brotherhood of Man" at The Steffen
Steffen Thomas Museum of Art
From February 1 – March 28, The Steffen Thomas Museum of Art showcases its annual exhibition of contemporary African American artists in Georgia. The legacy of Steffen Thomas, is both as a master artist and advocate of equality and unity. Participating artists will exhibit work that both celebrates the African American experience and creates thoughtful dialog concerning social and political themes. The 2020 exhibit features work from artists including:
Jamaal Barber • Kevin Cole • Najee Dorsey • Angela Davis Johnson • Grace Kisa • Lynn Marshall-Linnemeier • Eleanor Neal • Michael Boyd Roman • Brandon Sadler • Jamele Wright Sr.
And can't miss events, such as:
• Opening Reception: February 8th, 2020 2-4 PM
• Panel Discussion: Crossing Color Lines, Past and Present, February 22rd, 2020 2-4 PM
• Standing Together: An Evening of Performance, March 14th, 2020 4-6 PM
For more information on the museum and exhibits, click here.