Top 5 Ways to Enjoy the Art of Wellness in Madison
Art enthusiasts will attest that there is a mental and even physical wellness to enjoying the arts. In fact, a 2014 study concluded that our brains are constructed to appreciate art. According to the Wall Street Journal, "the study found that paintings activated areas of the brain involved in vision, pleasure, memory, recognition and emotions." Additional studies have noted the benefits of utilizing art museums for therapy sessions include improving one's memory, lowering stress levels, and enhancing feelings of connectivity with others. On your next getaway to Madison, boost your mood, reduce your stress, and be inspired as you explore the city's long history of supporting the arts.
Madison Artists Guild Gallery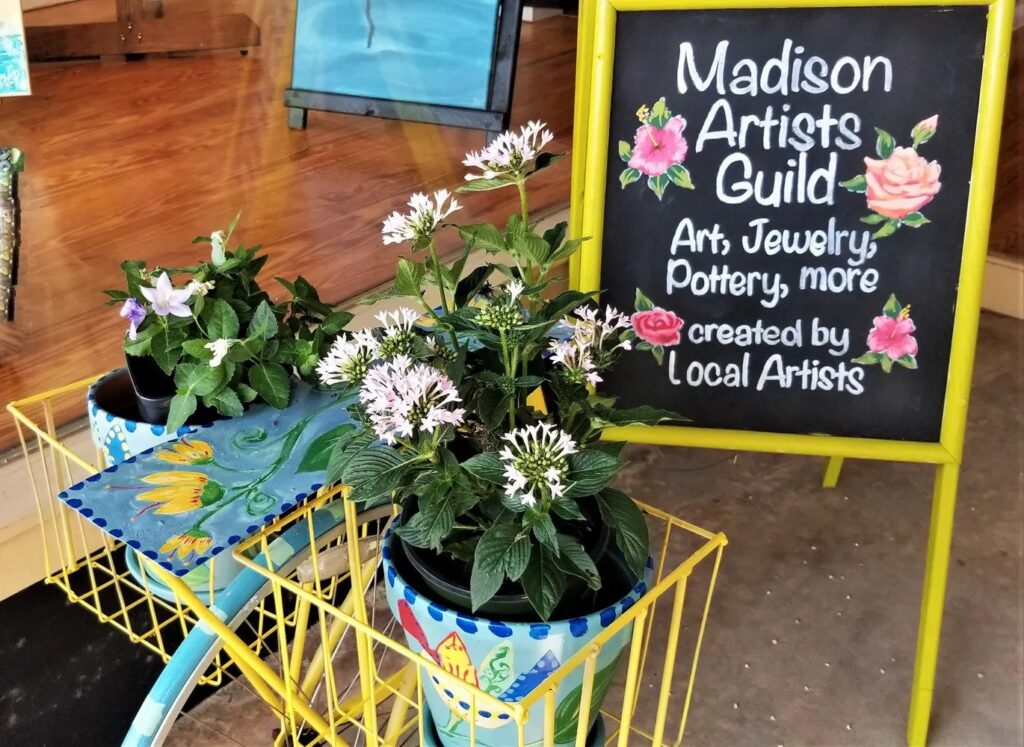 Recently relocated, the Madison Artists Guild Gallery, or MAGallery, houses a wide variety of creations from local artisans. With more than 100 members including painters, photographers, woodworkers, jewelry makers, and "folks who simply love art," MAGallery is a natural destination to appreciate and shop for new inspirational pieces. The MAGallery is open Tuesday through Saturday from 11 am to 5 pm and is also open by appointment. Until your next visit, art connoisseurs can also shop from home with MAGallery's new online store.
Madison-Morgan Cultural Center
While the 1895 Romanesque Revival building itself is a stunning masterpiece, the Madison-Morgan Cultural Center houses galleries dedicated to the preservation and enjoyment of fine art. Permanent exhibits include a gallery dedicated to art from the 19th century Piedmont region of Georgia, a restored circa 1895 classroom, and a room devoted to furnishings from the Arts & Crafts period. The Cultural Center's current rotating virtual visual arts exhibit, Lambs to Lilies by Cynthia Perryman, is now on display until Friday, September 11th. The Center is currently open Thursday through Saturday from 10:00 am until 2:00 pm.
The front lawn of the MMCC is itself a sight to behold, with an impressive, free outdoor sculpture garden. Giant modern works of art including two very colorful horses hide in the shade of giant hardwood trees. Don't be afraid to take a picnic and enjoy the serenity of this outdoor museum.
Steffen Thomas Museum of Art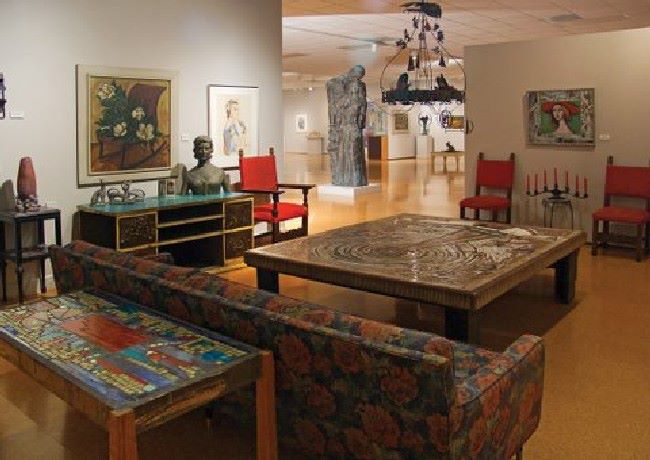 Modern art enthusiasts will enjoy browsing the Steffen Thomas Museum of Art dedicated to the life and art of Steffen Thomas. Though a master sculptor, Thomas's art also includes mosaics, paintings, and works on paper. In addition, the museum features special exhibitions. Currently on display are the works of Richard Olsen, a veteran helicopter pilot of the Vietnam War and purple heart recipient who shares his experiences through art. The exhibit, which runs through September 5th, is offered virtually and by appointment.
Madison's Old Cemetery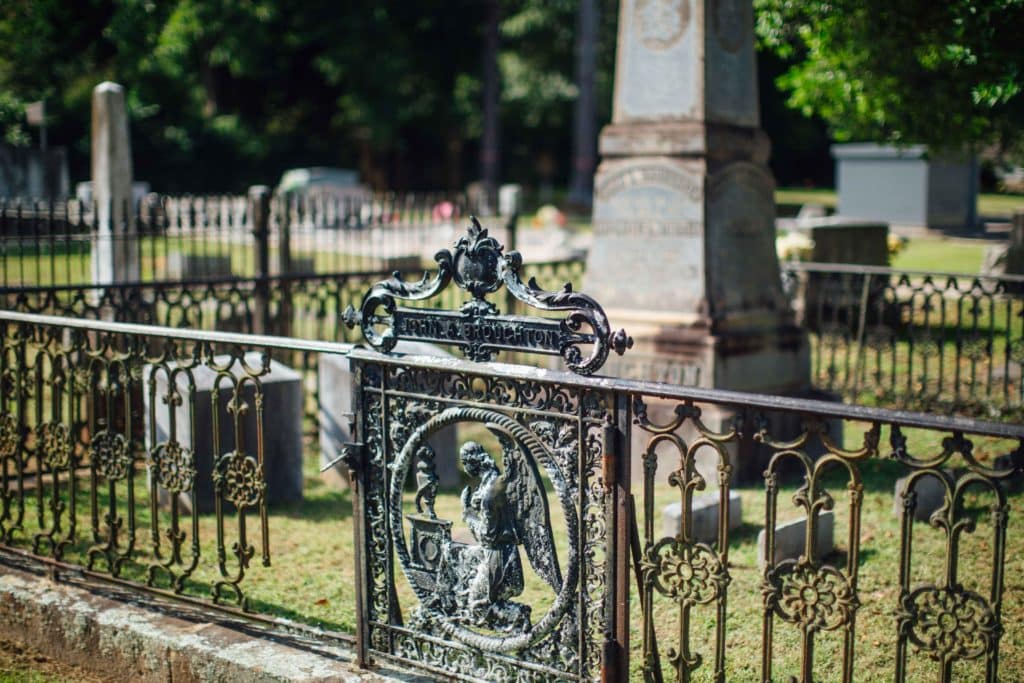 Madison's Old Cemetery is what many consider our small town's oldest public art museum. Works from stone carvers and craftsmen from all over the world utilize a variety of materials including marble, slate, granite, cast iron, and bronze. Russian born sculptor, Robert E. Launitz, also known as the "father of monumental art in America," Irishman, Michael Muldoon & Co, and Edwin Greble's Philadelphia Steam Marble Works are just a few of the nearly two dozen known artisans to have contributed to this site of early Madisonian history. Learn more about these works of art from the Madison Cemetery Stewardship Commission and plan a stop on your next visit to see the masterpieces in person.
Enjoy the Arts in our Public Parks!
Town Park – Originally erected in front of the Morgan County Courthouse, Cooke Fountain was molded in honor of local philanthropist, Sarah Benham Judd Cooke. The original fountain was moved in the 1920s and eventually lost, but research led to the discovery of the original fountain molds which were used to recreate the fountain for the new Town Park, completed in 2009.  Explore the park further to discover changing public art pieces, including a bronze sculpture by Steffen Thomas.
Lambert Park – Madison's newest park, named in memory of "one of Madison's most stalwart citizens", Ezekiel Roy Lambert, Jr, is located at the north end of the historic district. The park features a large and impressive granite map of Morgan County detailing local communities, main roads, rivers, and rail lines. Future phases of the park will include a large mule sculpture to be located near the map.