While Madison's grandiose antebellum homes regularly take center stage, in our latest Favorite Things tribute, we highlight a few of our small town's more opulent private gardens.
Since Madison's inception in 1809, greenspace has been an integral feature for its residents. As the town grew and public space dwindled, it is no surprise that landowners created their own personal outdoor havens. Some may have been inspired by the formal gardens originating from the Renaissance period, while others embraced a newer landscaping trend, the "lawn," made famous in America largely due to our third President and horticulture enthusiast, Thomas Jefferson. Regardless of style, it is apparent that a home's yard is a continuation of living space for these families.
Let's take a journey through history to learn more about these personal oases, the owners who thoughtfully designed and maintained them, and how to find them on your next visit to Madison via our walking tour.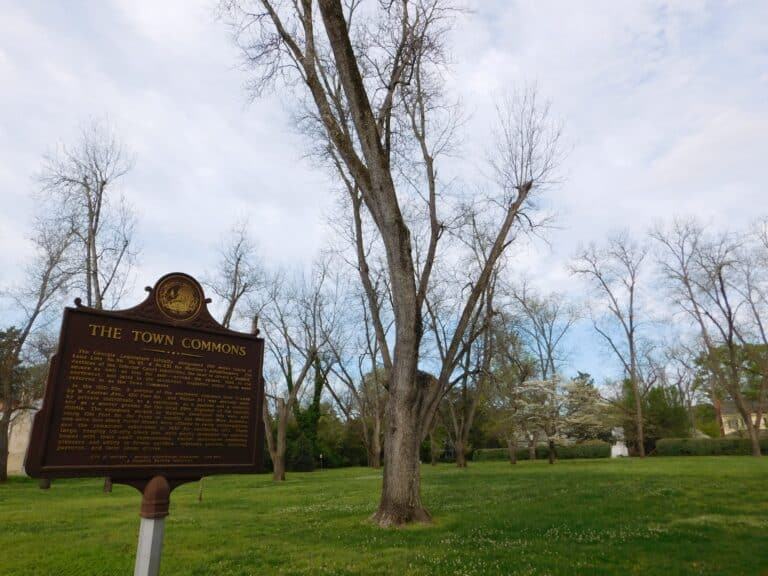 Town Commons
Nestled in the center of the historic district is an unassuming mature pecan grove skirted by antebellum mansions. This tranquil landscape is all that is left of Madison's original Town Commons.
In 1809, Georgia's legislature dedicated 100 acres for the establishment of the town of Madison. The land was subdivided to include a public square as well as smaller lots for sale. Unplatted land, referred to as Town Commons, was often used by citizens for pastureland, farmers' markets, a popular horse racetrack, as well as muster grounds for the local 29th Regiment of the Georgia Militia. As lands sold, the Commons size decreased. The remaining Commons sits adjacent to the Joshua Hill House and is documented on Stop Eighteen of our Tour App.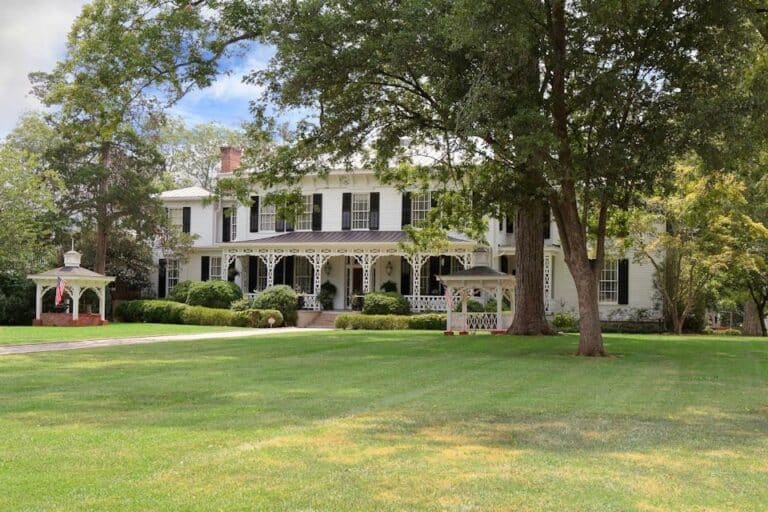 Broughton Hall
Stop Twenty-Two brings you to Broughton Hall. Built in 1850, this magnificent home sits on 2 lush green acres with a history of entertaining and enjoyment. On July 8, 1898, The Madisonian newspaper described a lawn party given by the Broughtons:
The Broughton home is one of the most cultured and refined in the state, and the imposing residence, beautiful grounds, and location make it an ideal one in every respect. For the occasion, the lawn had been beautifully arranged with cozy seats and illuminated with Japanese lanterns, and the scene was one of indescribable loveliness….
However, it has not always been that way. In the early 20th century, the home was owned by a woman affectionately known as Miss Dena. A recluse, Miss Dena allowed the trees and shrubs to become massively overgrown resembling a shadowy wilderness.
In 1941, the property was purchased by Mr. & Mrs. C.L. Mason who restored the grounds and brought its gardens back to their original splendor.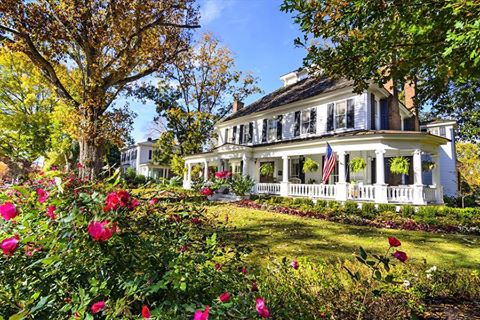 Jessup-Atkinson House (Home of the Georgia Wonder)
The majestic Jessup-Atkinson house was once the home of Lulu Hurst, also known as the "Georgia Wonder." As a teenager, Lulu travelled the country performing seemingly astonishing acts of physical strength. After only two years, Lulu retired from the limelight and married her former manager, Paul Atkinson. The newlyweds settled in Madison and built their new lives in this beautiful home.
Constructed in the 1820s, the home's original front entrance faced Old Post Road. It was not until the early 1900s that Main Street become the city's primary thoroughfare. The, now, backyard boasts carefully trimmed hedges lining brick pathways leading to an elegant fountain just steps from the back porch. Immaculate Japanese maples anchor each side of the home, adding a warm red contrast to the evergreen shrubbery.
More information on the Jessup-Atkinson house as well as Lulu Hurst can be found at Stop Ten of our downtown tour app.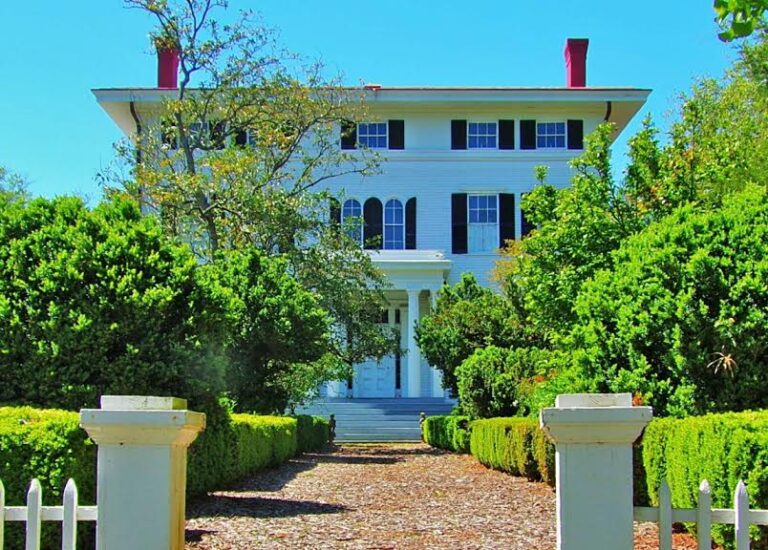 Boxwood
On your next visit to Madison, it is hard not to miss Boxwood. Its name is on the front gate! While the home's opulence is immediately apparent, the property's formal gardens hold a remarkable beauty all their own.
Built in 1850 by Wildes B. Kolb, Boxwood features a double facade: one side Italianate and the other Greek revival. Outside each entrance lay twin parterre gardens, a style birthed during the French Renaissance. Noted by the meticulously manicured English boxwood hedges and paths that carve beautiful patterns into the landscape, the gardens host a wide variety of flora, many of which are decades old.
Owned by the Newton family for more than a century, its last full-time resident, Mr. Floyd Newton, Jr., took great pride in his gardens. He kept rooted cuttings on hand to replace dying boxwoods, ensuring the entire stock was from their original 1854 planting. In the garden you will also find cherry blossoms, a Japanese magnolia, as well as a dawn redwood tree, once thought to be extinct. He even produced his own variety of camellia named after his mother called "Miss Mary."
For more enchanting stories and information about this home, check out Stop Twenty-Four on our app.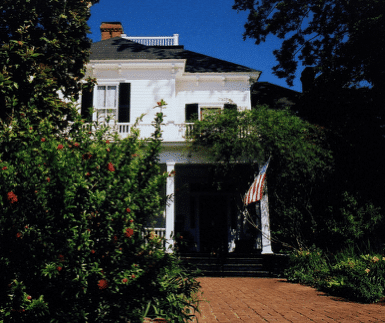 La Flora
Stop Fifteen on the app highlights this early Colonial Revival built in 1895 by A.K. Bell. The home is known for its unique ship-lap siding and intricate millwork originating from the local Madison Variety Works.
Madison's Garden Club, the second oldest garden club in Georgia, was reorganized in this home by previous owner and gardens enthusiast, Mrs. Harris Richard. Renamed La Flora in 1932, the garden club was responsible for establishing Madison's first tour of homes. The home was later named La Flora by owner Charles Cartwright in honor of the club.
Originally a tenant house located closer to downtown, the Rachel Anna Cottage was moved into its current location behind La Flora in 1988 and restored as a guest house.
While the current owners have renovated La Flora to make it more practical to modern life, they have painstakingly decorated the home with turn of the 20th century lighting fixtures and furnishings, reproduction wallpaper, as well as period memorabilia.