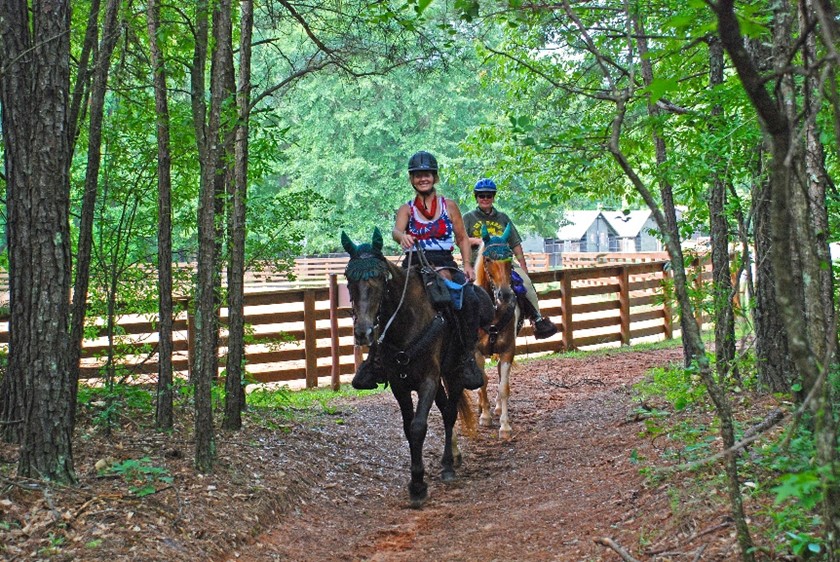 10 Reasons to Visit Madison this Spring
Mild weather and blooming flowers make this season the ideal time to enjoy picturesque downtown Madison. From the wide array of al fresco dining options to the countless outdoor parks and activities ready for exploration, there are plenty of reasons to visit this charming small town. Southern Living understands the magic of Madison in springtime, writing "this quaint Georgia town dons her showiest attire in the spring." We couldn't agree more! Continue reading to discover all Madison has to offer during this transformative time of year.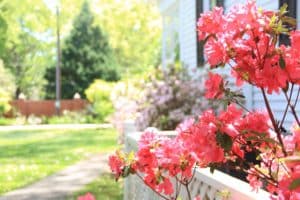 The Magic of Madison in Bloom
Madison during the height of spring is truly a sight to behold, and a promenade through this vibrant town will inspire you with thoughts of new beginnings. It certainly did for Southern Living, who dedicated an entire article to admiring Madison's gorgeous period of renewal, remarking how "blossoming trees and shrubs line the historic streets, their colorful petals speckling the sidewalks." Witness our small town come to life this season as flowers bloom in every front yard and gardens flourish into a stunning kaleidoscope of pink and green.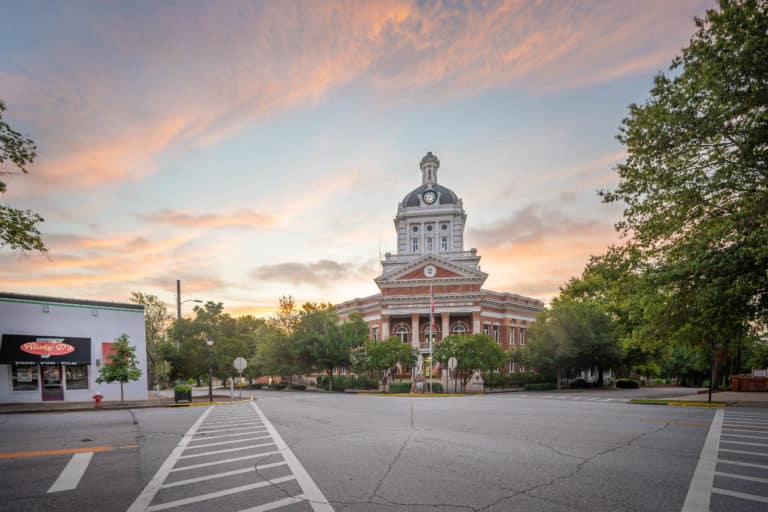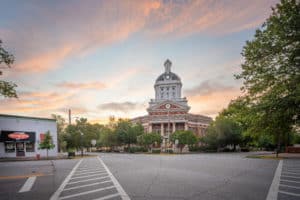 Fly Solo with Our Self-guided Tour
Take a leisurely stroll through Madison's rich history with our self-guided walking tour. It can be an adventure all its own to wander off the beaten path and explore the town on your own. Our mile-and-a-half long route features 26 unique stops, making it the best way to spend a couple of spare hours during your trip. As you walk through history, learn old stories and interesting tidbits about the historic homes, churches and iconic buildings that line the beautiful streets of this charming small town.
Some of the loveliest aspects of Madison can be enjoyed with a simple stroll through the beautiful residential historic district and charming downtown. As you wander through this classic Southern town, be sure to pause now and then to admire the impressive homes and lush greenery that line every street. Of particular interest is Heritage Hall, one of the three historic houses where you can uncover our town's distinctive story. You'll soon discover that each building has a unique story to tell, so go at your own pace and soak it all in. There are also several small eateries and shops sprinkled throughout the area. Stop by for some refreshments and learn more about the town from the friendly locals.

Wander Vibrant Parks and Gardens
There is no better time to experience the outdoors than spring. Thankfully, Madison is filled with vibrant parks and luscious gardens that await your exploration. One of our town's hidden gems is Round Bowl Spring Park. This peaceful nook is a popular backdrop for outdoor weddings. After witnessing its beauty, you will soon understand why. Sunny spring days provide the perfect opportunity for an outdoor picnic at a local park. For many, Town Park is the perfect location to relax and recharge for the day ahead. Take a moment to bask in the sun on the park's large, grassy lawn or in one of its romantic gazebos.
Nature lovers will also adore Madison's gorgeous greenspaces. Seek refuge from the bustle of downtown in one of these tranquil hideaways and find your next favorite reading spot. A local favorite is the Laughin' Place Garden, where you can admire the rich floriculture or simply rest on a bench and admire the beauty around you.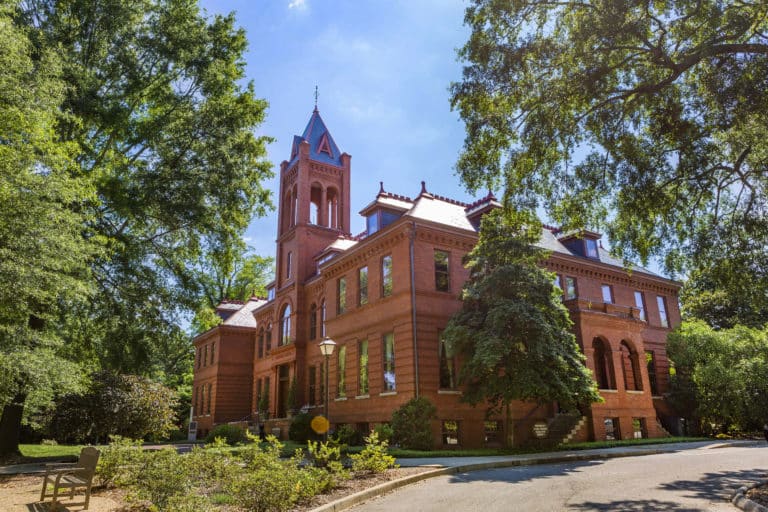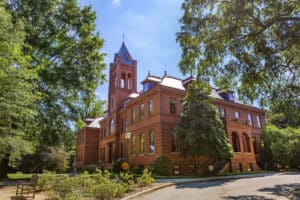 Understand Madison's Rich History
Madison is overflowing with history and culture, making a trip to the museums a staple on any itinerary. Explore the town's most iconic homes with a guided tour of Heritage Hall, Rogers House, and beautiful Rose Cottage. Decades of history from the Cotton Boom past the Reconstruction period can be gleaned through just these three buildings. To dive deeper into the history of this small town, enrich your mind with a visit to the Madison-Morgan Cultural Center. Within this refurbished 19th century schoolhouse lies the informative Piedmont History Museum, so there will be no shortage of educational opportunities during your visit.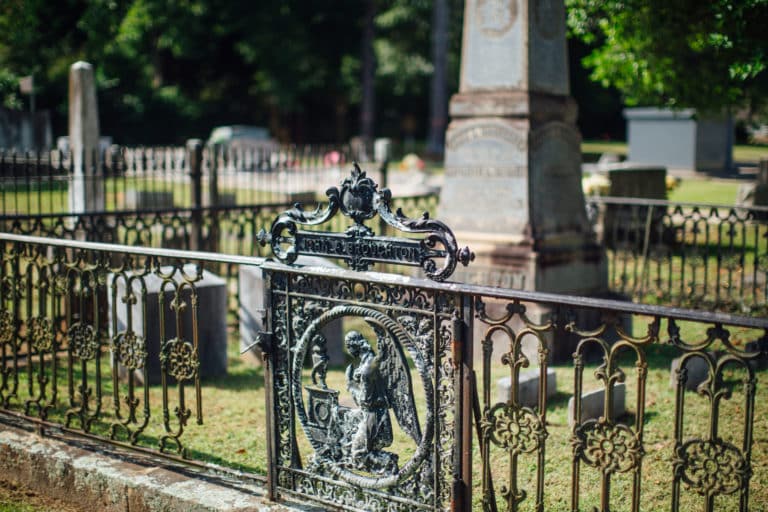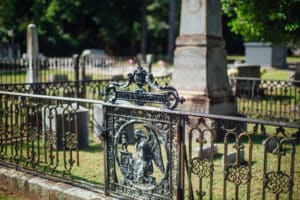 Discover Regional Art and Culture
If the stunning architecture of old-style homes inspires your artistic side, take a moment to stop by one of the area's art galleries or museums. The Steffen Thomas Museum of Art is an avant-garde choice for those interested in studying the unique work of one of Atlanta's most esteemed artists. His passion for life shines through each of the over 400 pieces that make up the museum's permanent collection.
We understand that sometimes the warm weather of this small town is too pleasant to part with. For an alternative to the crisp air-conditioning of indoor museums, our Old Cemetery remains an excellent way to appreciate the arts. Here, you can admire the ornate headstones and impressive ironworks that line the winding paths of what some have called Madison's oldest outdoor museum.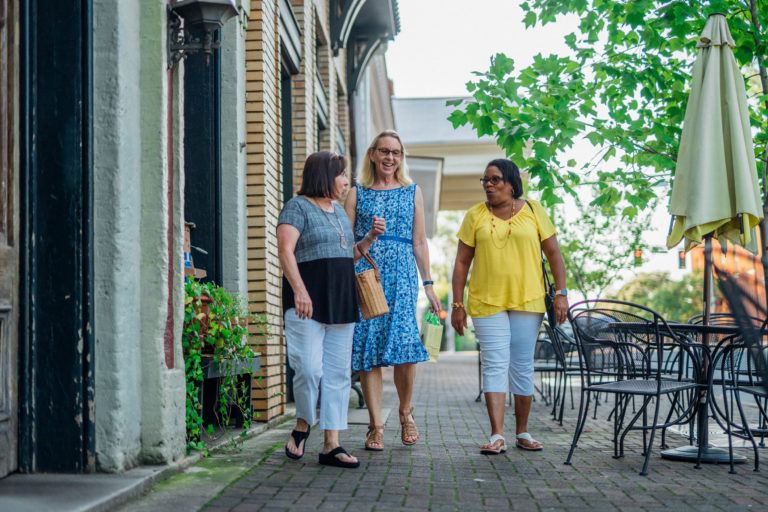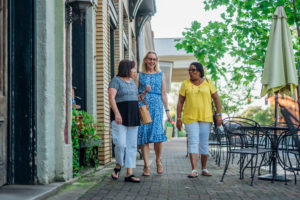 Reward Yourself with Some Retail Therapy
Here in Madison, we believe in retail therapy. With over 200 antique dealers and 30 boutiques in the Madison and Rutledge area combined, everyone in the family can benefit from a day at the shops. As you stroll through downtown, pop into one of our home décor stores or fashion boutiques to browse the latest trends in design. If a more old-fashioned souvenir is what you seek, our eclectic antique shops are the perfect place to unearth hidden treasures. You might even learn a bit more about our town's fascinating history while you're at it!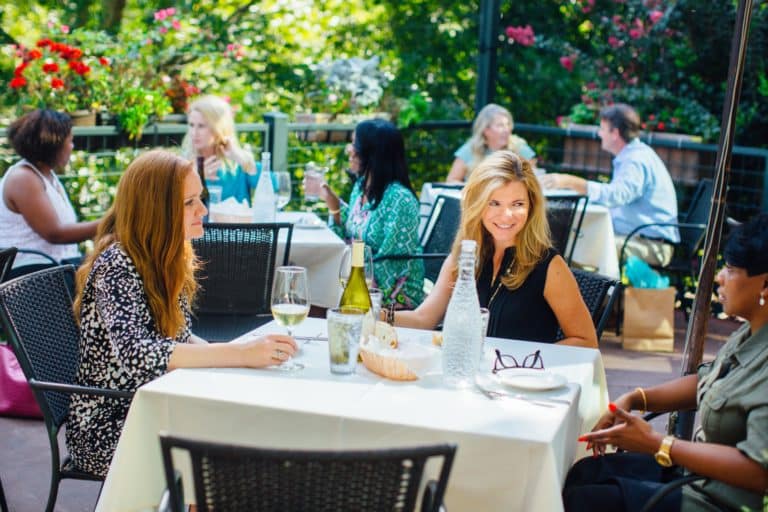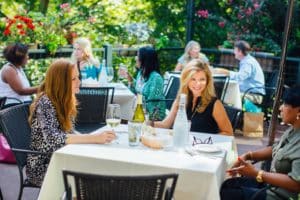 Enjoy Outdoor Dining

Make the most of the town's favorable weather with a refreshing outdoor dining experience in one of the 20+ eateries located in Madison and Morgan County. This small town already boasts a wide variety of food options, from fine cuisine to classic Southern comfort food, and some of our best restaurants also offer the ability to dine al fresco.
Enjoy an elegant open-air meal set against a gorgeous floral backdrop at Town 220 or dine in a more casual atmosphere under one of the umbrellas outside of Ricardo's Kouzinna, where you can observe the slow pace of the town as you eat. An outdoor picnic is also a lovely choice this time of year. Places such as Town Park offer beautiful settings to lay down a blanket, sip on some ice-cold drinks and soak up the sun. For the best picnic spots in Madison, visit here.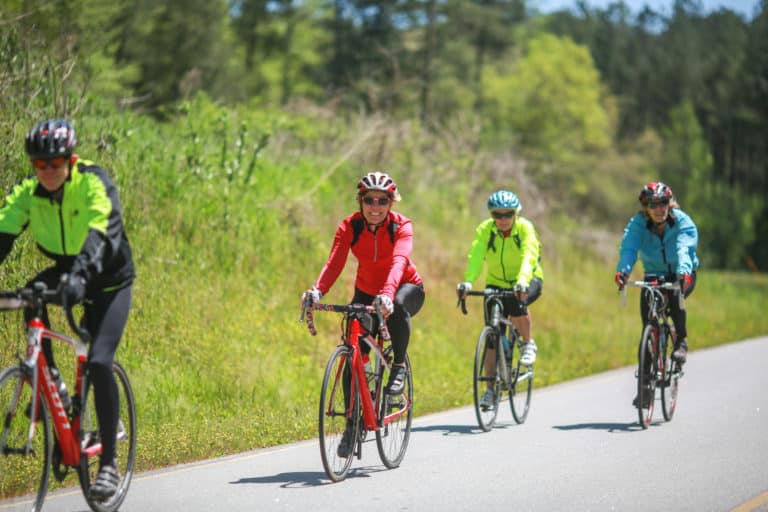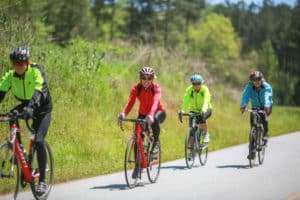 Bike Through Scenic Morgan County
Step outside the charming small town of Madison and explore larger Morgan County via the Madison-Morgan Meander. This series of cyclist routes has a variety of difficulties perfect for any skill level of rider! Bridge the gap between Downtown Madison and Hard Labor Creek State Park by choosing the "Park to Park" route. Start at Madison Town Park and meander through the oldest part of the historic district on your way to Dixie Hwy for an enjoyable ride out to "Small but Special" Rutledge and then up to Hard Labor Creek State Park.
Choose the route that best fits your next adventure and get out to explore Morgan County!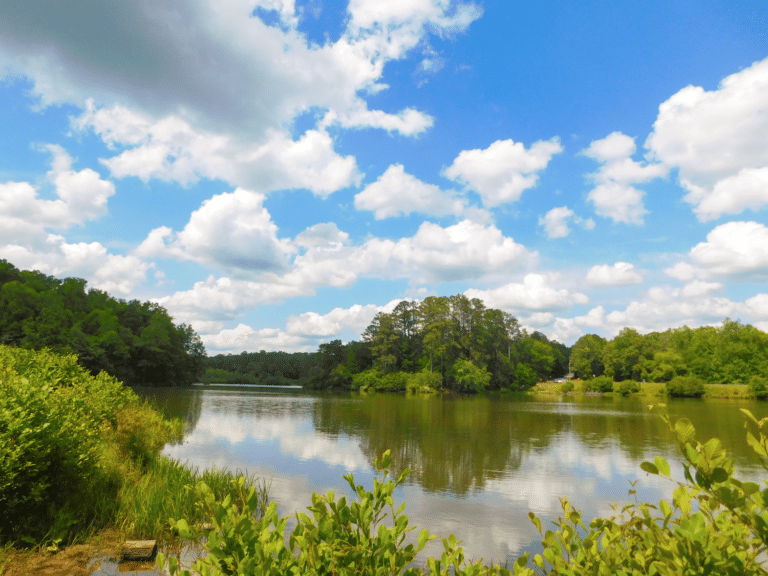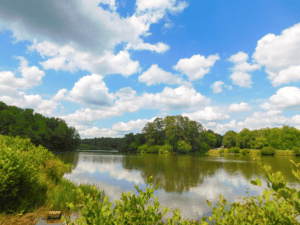 Explore Hard Labor Creek State Park
Enjoy a breath of fresh air at Georgia's second-largest state park. Nearly 6,000 acres of exploration ensure that there will always be something new to do, whether it is your first time exploring Morgan County or your fiftieth. Squeeze some cardio into your day with an exhilarating hike through the woods or opt for a peaceful walk along Lake Rutledge's sand beach and appreciate the awe-inspiring nature around you. These are just a few of the countless activities available to you during your time at Hard Labor Creek. Other popular ventures include biking, fishing, boating and mini golfing.
The Creek Golf Course at Hard Labor Creek is a must-visit for any fan of the sport. This 18-hole course, with Champion Bermuda putting greens and a signature 14th hole, was named "4th sweetest deal" by Golf Digest Frugal Golfer. Just one trip to the fairway will show you why it deserves this title. Don't worry, seasoned pros aren't the only visitors welcome. First-time golfers and families are invited as well to experience one of the most picturesque backdrops in the region.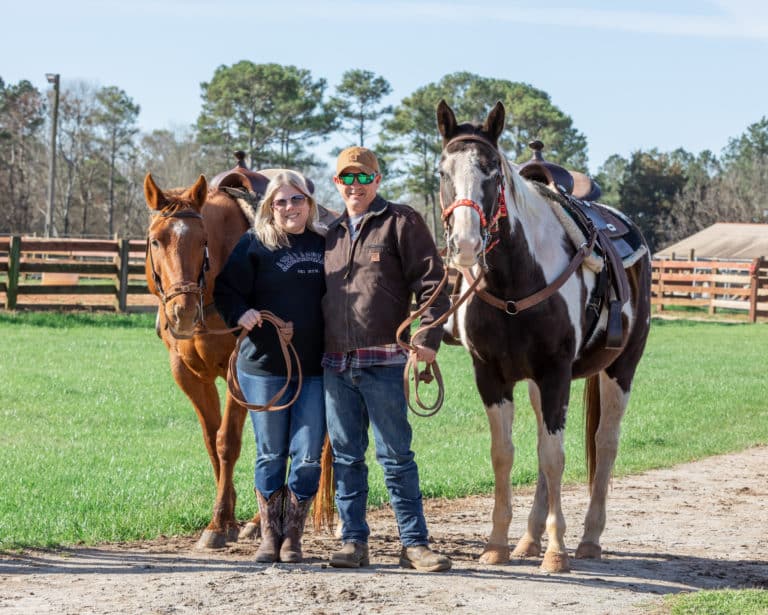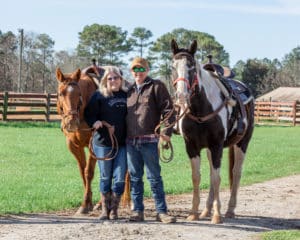 Take A Trip to An Authentic Dude Ranch

Experience the only Dude Ranch this side of the Mississippi with a trip to Southern Cross Guest Ranch. This premier ranch and horse farm doubles as a bed & breakfast, so visit for a day or stay for the week if you find that the tranquility of the countryside appeals to you. One of the most notable attractions at the ranch is horseback riding, for which they offer unguided riding opportunities in addition to more hands-on options. Southern Cross Guest Ranch is known for being a "horse lover's paradise," which is certainly true, but we are confident that anyone who visits will find their own slice of paradise there, as well.
After a day out on the town or in the wilderness, come back to stay in a warm-hearted, welcoming place. Madison offers plenty of cozy cottages, historic inns, and inviting hotels with all the accommodations you need for a stay so perfect, you won't want to leave.
Click here to book your spring vacation today!